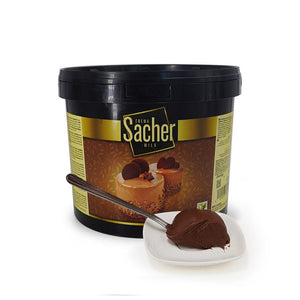 Milk coating/Filling with a sublime milky taste. Your cakes will look amazing due to this coating creams flexible texture
and perfect drying.
Elegant finishing
Ideal as a coating or filling
Easy use
Flexible texture and clean cutting
Sublime taste
6 kg tub
Ingredients
Sugar, Vegetable Fat (Palm), Vegetal Oil (Sun-Flower), Skimmed MILK Powder, Fat Reduced Cocoa Powder, Vegetable Fat Partially Hydrogenated (Palm Kernel), WHEY MILK Powder, Full Hydrogenated Fat (Palm), Emulsifier (E-322 SOYA Lecithin), Flavour, Natural and Antioxidant (E-304i, E-306).
Dry Cocoa Solids: 10% Minimum
May Contain Traces of NUT.
Allergens visible in Capital Letters, Bold and Underlined
Expiry Date
12 Months after manufacturing date
Storage Information
Keep in a cool and dry place between 15 and 25 ºC, R.H. <65%.
Keep the packaging closed after you will open it. Follow the storage conditions
| | |
| --- | --- |
| Nutritional Information | PER 100G |
| Energy (kJ) | 2335kJ |
| Energy (kcal) | 563Kcal |
| Fat  | 35.8 |
| (of which saturates)  | 14.7 |
| Carbohydrate | 51.5 |
| (of which sugars)  | 50.3 |
| Dietary Fibre | 2.8 |
| Salt  | 0.20 |