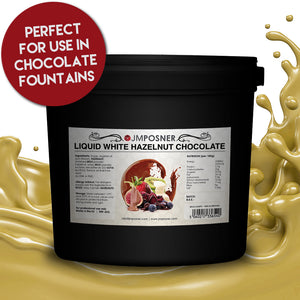 Available in four great flavours, these all new liquid chocolate sauce 6 kilogram tubs offer a great alternative to formed chocolate for your dessert offerings. As well as a better price point per kilogram this liquid chocolate offers some other practical benefits such as no need to melt or keep warm as well as allowing easier portion control. The liquid chocolate sauce will stay in liquid form on ice creams to enhance the flavour and appearance.
Please note: Due to the nature of this product it can separate, it is very important to stir this product thoroughly before each use to ensure even consistency.
Always Liquid even in cold / refrigerated conditions.
Easier for portion control.
Will stay liquid on Ice cream to enhance the taste and look of the dessert
Available in milk chocolate, milk hazelnut chocolate, white hazelnut and white chocolate
Gluten Free
Ingredients
Sugar, Sunflower Oil, Skimmed MILK Powder, HAZELNUT, Whey MILK Powder, Lactose, Emulsifier (SOYA Lecithin), Flavour and Antioxidant (E-304i, E-306)
Contains MILK, HAZELNUT AND SOYA.
May Contain Traces of OTHER NUTS.
Allergens visible in Capital Letters, Bold and Underlined
Expiry Date
12 Months after manufacturing date
Storage Information
Keep in a cool and dry place between 15 and 25 ºC, R.H. <65%.
Keep the packaging closed after you will open it. Follow the storage conditions
SUITABLE FOR VEGETARIANS.
Nutritional Information

PER 100G

as sold

Energy (kJ)
2288KJ
Energy (kcal)
561kcal
Fat 
34.1
(of which saturates) 
31.1
Carbohydrate
55
(of which sugars) 
53.9
Dietary Fibre
0.8
Salt 
0.66